Refresh your style with an elegant wood watch.
Wood is a hot design material, showing up in everything from iPhone cases to Vespas to the reclaimed plank table at your favorite coffee shop, and it's long been the go-to material of choice of trim for luxury automakers (Bentley has an entire woodshop solely for this purpose!). It's no wonder that wood has found it's way into perhaps the most important accessory a man can have: his watch. It's just one of the reasons Primer is excited to be giving away 5 watches from Original Grain to our readers.
If you've never owned a wood watch, consider this: it's durable, warm-toned, and lightweight – perfect for a watch's workaday applications. They also garner a ton of compliments because people just respond to a wooden watch. If you're looking for an accessory that's different without being flashy, a wood watch is a reliable bet.
So what is the X-factor of wood's near-universal appeal? The answer might have something to do with what wood, as a part of nature, evokes in our brains. Studies have shown contact with nature – whether it's a month-long trek through the Sierras or sitting in your lawn for a half hour – increases your brain's alpha waves and decreases stress. It appears we're programmed to be soothed by nature. Is it surprising that we're naturally drawn to wood?
Nature is in Original Grain's DNA. It was founded by two brothers, Ryan and Andrew Beltran, who grew up in the Pacific Northwest and wanted to design a watch using unique materials that reflected their origins. To offset the wood used in their projects, the company has partnered with Trees for the Future, a nonprofit that teaches sustainable agroforestry. Original Grain plants 10 trees for each watch sold.
Now, you might be asking how an Original Grain wood watch compares to a traditional metal timepiece in terms of quality and function? Quite well, as it turns out. All Original Grain watches are crafted from exotic hardwoods, 316L stainless steel, and a Japanese Miyota quartz movement. The mixture of wood and steel materials means Original Grain watches are more rugged and have a more satisfying weight on the wrist than other all-wood brands.
We've selected a handful of our favorite timepieces from Original Grain for your consideration. In addition to giving away 5 watches to Primer readers, Original Grain is offering 15% off all watches with code "Primer." Check out more styles at Original Grain and don't forget to enter to win below!
Here are a few of our curated favorites from Original Grain:
15% off code "Primer"
Crafted from reclaimed American Oak whiskey barrel wood, the Whiskey/Espresso is guaranteed to get second – and third – looks for it's fresh approach to the timepiece.
15% off code "Primer"
Boasting an inlaid Sapele wood bezel and scratch resistant mineral crystal glass, this is a perfect juxtaposition of matte black stainless and warmer-toned wood.
15% off code "Primer"
A Burl wood bezel and traditionally rugged steel case make this a refresh on the classic stainless chronograph. Includes a two-function chrono finished with an epoxy gloss that allows the watch to be fully waterproof when submerged to 100ft, for all your competitive sailing needs.
15% off code "Primer"
Offering strong visual characteristics like the Barrel Sapele Black but with a more pronounced contrast, the Pau Rosa (Rosewood) pairs well with dark suits that need a strong accessory.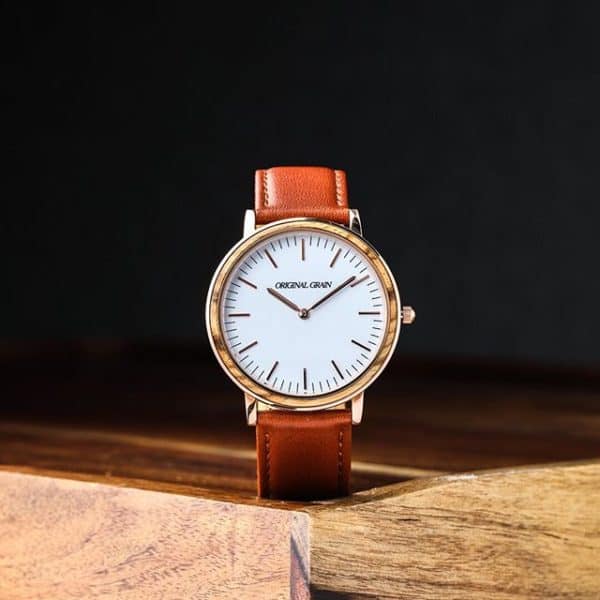 15% off code "Primer"
Made in the finest style of minimalist timepieces, it features a thin bezel of zebrawood along with a sleek 40mm case and Italian leather band.
Which is your favorite? Let us know below!