Finding true love ain't what it used to be.
Just like online dating before it, dating apps started out as a bit of a dirty secret – how many Tinder profiles joke that they'll want to lie about how you met? But time and ubiquity have meant that apps like Tinder and Grindr are no longer seen as a source of shame, and they're just another of the many ways people can try and meet each other in the modern digital age.
Inevitably, that success has sparked a wave of imitators and successors, from established dating websites dipping their toes in the app waters, to start-ups with a bright idea and a novel gimmick hoping to make an impression. Primer's editor and founder Andrew field tested a lot of the options out there and has included his own experiences.  We've waded through the app stores to sort the useful prospects from the wastes of time, and here's what we found.
Shtick: Just like Tinder, but women have to send the first message after matching
Quick stats: More than 1 million users / Over 90% of female users with matches initiated chat / 700,000 matches per day
Bumble is the creation of Tinder co-founder Whitney Wolfe, who left that company amid a storm of allegations of sexism against her former co-workers. Her latest development is a pioneer of the 'female-friendly' dating app, requiring women to send the first message after the two of you match with each other – though they only get 24 hours to do so to encourage them to be proactive. The hope is to save women from the barrage of dick pics and crude one-liners Tinder gets flooded with, but the cost is that as a guy, you lose most of your agency. The power is entirely in the girls' hands – but at least you lose the pressure of coming up with a dazzling opener.
Who it's best for: Anyone who wants a dating app without the work and lives somewhere reasonably urban.
Andrew's take: Love it. All I have to do is swipe on women I'm attracted to and find interesting and eventually some of them message me. It takes out all of your carefully crafted openers that never get responses from matches that swiped right on you in a drunken stupor or are just looking for validation and not a date.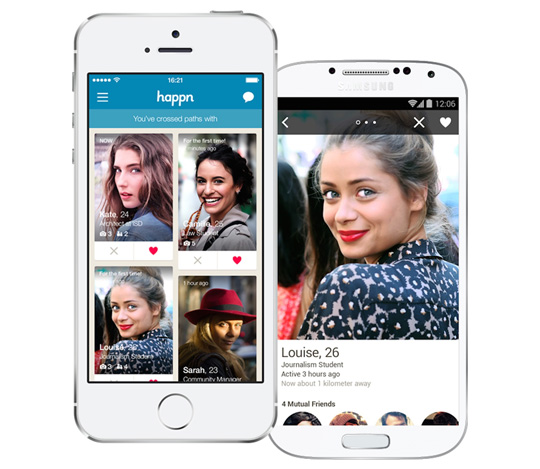 Shtick: Shows you people you've crossed paths with in real life
Quick stats: 8.2 millions users worldwide / 850,000 US users / Biggest city being NYC with 230,000 users
Outside of Tinder and Grindr, Happn has a claim to being the most popular of the app-only options out there. It uses your phone's location data to tell you which other Happn users you've crossed paths with, letting you know where and when you walked past each other without realizing. They claim that it's a great way to find that cute girl you spotted at the supermarket, but in reality it tends to just yield a long list of people you were vaguely near that one time. For obvious reasons, this one works well in major cities, but will be less useful as the local population density drops.
Who it's best for: Anyone in an urban center likely to cross paths with plenty of people on a daily basis.
Andrew's take: I dig the concept and have a number of friends that really like it. My commute isn't a great distance, and all my daily spots (gym, grocery store, whiskey bar) are within walking distance so the pool of people I connected with when I tried it wasn't great. Where you live and how much you move around will determine whether Happn works for you.
Download: iOS / Android / Windows
Shtick: Shows you 12 daily matches that are in your Facebook social circle (friends of friends, etc.)
Quick stats: Hinge users are 99% college educated, 90% are between 23-36 / Most popular industries include banking, consulting, media and fashion / Live in 38 cities total / 99% of downloads are coming from word-of-mouth.​
Locked down a date but don't know what to wear?
We've got you covered.
Hinge is one of a clutch of apps that try to leverage your existing social network. Once you connect your Facebook account, it recommends matches you have mutual friends with – letting you know their employment and education, then giving you the chance to chat if you both like each other. It limits you to 12 or so potential matches per day (the exact amount depends on how many Facebook friends you have), giving it a bit more focus than the sprawl of Tinder or Happn. They also just introduced timed matches which give you 24 hours to send the first message otherwise it expires, encouraging users to make matches more quickly. In theory, Hinge gives you a steady stream of friends of friends of friends you can hit it off with. In practice, a lot depends on your social network.
Who it's best for: Anyone with a decent social network on Facebook for the app to draw from.
Andrew's take: I really like Hinge – the fact that it connects you within a certain number of degrees with your Facebook friends makes the matches more realistic. I've chatted with many and met a couple of women through Hinge.
Shtick: One match per day
Quick stats: 60% female, 40% male / Median age 28 / Largest cities NYC, LA, SF, Chicago, DC, Boston / 95% have bachelor's degree, 24% Masters or higher
Another one that prioritizes friends of friends, but with an extra level of gimmickry to try and stop it from running out of matches. You'll be served one 'bagel' (read: person) each day, in the hopes that it will encourage each of you to give the other your undivided attention for 24 hours. Of course, that flies in the face of the old adage that dating is a numbers game – with only one potential match each day, it could be a while before you find someone you really get along with, especially if you're looking for long-term prospects. You also pick up 'beans' (read: points) for joining the app, getting friends to join, promoting it on social media and more. These are essentially an in-app currency you can spend to match with more people, by 'taking' a 'bagel' you're interested in. Positioned as the "anti-Tinder," Coffee Meets Bagel is a less sexualized, more intentional take on app dating.
Who it's best for: Anyone who doesn't have the time (or want) to swipe through hundreds of profiles every day looking for a serious relationship.
Andrew's take: I used CMB casually for 8+ months and ultimately didn't meet anyone from it. I passed on most of the 'bagels' and eventually stopped using it, however I can definitely see how it has its user base and will work well for some.
Shtick: Tinder-style swiping with advanced filtering options for paid members
Quick stats: 12+ million users
The online dating giant has thrown its weight into the app arena. It's a condensed version of the main site, with the app-ready 'Quick Match' feature, essentially offering a Tinder-style stream of photos for you to rate on the fly. That's all well and good, but does slightly fly in the face of the site's main advantage over Tinder and its ilk – that there's space for more than a tweet's worth of information on the profiles. Still, the full profiles and questions are available, and it's free-to-use (with a few irritating ads), making it a worthwhile option for anyone hoping to know a bit more about their dates before meeting up for the first time. There's also their paid service, A-list, which offers a few perks, including loads more filtering options, including attractiveness, body type and the answers to certain questions, making it a lot easier to avoid bad matches.
Who it's best for: Anyone who wants more info on potential matches and to judge (and be judged) on more than just a few photos.
Andrew's take: Of the main web-based dating sites (Match, eHarmony), OkCupid's user base and app balance the best of features and matches. It's definitely a more detailed experience, with the extra profile information available. However, in the last 15 or so months it seems people are moving away from this option and gravitating towards the briefer, quantity approach.
Shtick: Focuses on getting people offline and meeting in person
Quick stats: 5 years old / Gained 2.3 million users across both its dating and couples services / Available nationwide and in 30 countries across the globe
HowAboutWe puts your dating skills to the test before you even lock eyes with your matches. Instead of simply browsing profiles, you must suggest ideas for potential first dates. Anyone who likes the sound of your suggested date lets you know, and with a bit of luck you get the chance to put your concept into practice. One of the benefits is that if you have a hobby that you know you want your partner to share (or just want to find people to do it with), you can use HowAboutWe to make sure you find people who are up for giving it a go. Great if you can come up with novel ideas for things to get up to (or borrow them from one of Primer's guides…), less so if the best you can come up with is, "Maybe we could grab a drink?"
Who it's best for: Anyone looking for more interesting first dates, or with hobbies they want to share with new people.
Andrew's take: I tried this one early on and ended up meeting someone in person. At that point it required a paid membership for some key features that have now been made free.  After several lackluster, expensive (both time and money) dates from various sites/apps I decided I wanted to get to know the person a little bit more prior to meeting up. The user base is definitely smaller, but if you're looking to get out there and meet real people, you may have luck.
Have you used any of these or other apps with success? Continue the conversation in the comments!