Spy School
One of the most important knots to know.
Hit the brakes, they'll fly right by you.
Don't compromise your cover when rendezvousing with friend or foe at a bar.
Your cell phone's dead, and you have to get somewhere in an unfamiliar place? As long as you know which direction you need to head, your watch will point you the way.
A simple, smart survival method for creating a cooking surface hot enough to boil water.
Categories: Learn
In the films, Bond is known for his martinis with a precise mixing method, but in the novels he imbibes in more than one libation.
We discuss the basics of the tuxedo from top to bottom, renting vs. buying, and break down what a black tie invite really means.
The most famous go-to drink in the world, and why you should have one of your own.
Categories: Train
A Double O has to be strong, fast, and athletic. We'll have you ready for the spy academy in no time.
Categories: Learn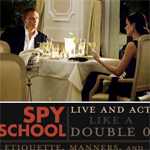 Etiquette, manners, and food customs for lavish & sophisticated settings.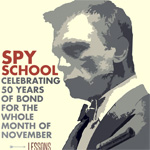 Lessons learned living as a Double 0.