Bags & Briefcases
Categories: Spend
Every man needs a toolbox, no matter what kind of work he does.
Categories: Spend
You don't need to lug around a case that looks likes it was designed for the nuke codes if all you've got is your laptop and tablet.
Categories: Spend
A sharp looking briefcase doesn't have to be expensive.
Categories: Spend
If you read magazines or browse men's style sites you get the impression that a decent briefcase has to cost the same amount as a suit. We found one that looks great, is built tough, and comes at a decent price.
Categories: Spend
Getting your gear from A to B never looked so good.
With over 400 entries into our Hlaska Caliper V2 Briefcase giveaway we've got a very lucky winner. Kevin G. from Oklahoma chose the Caliper in brown to stylishly carry all his gear from home to work and everywhere in between. I'd like to thank Hlaska for sponsoring the giveaway, that was mighty awesome of them. [...]
Categories: Spend
Save the backpack for the gym and only use the messenger bag for school because when it comes to looking the part in a professional setting, you need to carry a briefcase. Luckily, we're giving one away.
Categories: Spend
It feels a little silly telling you about the necessity of a duffel bag. After all, it's purpose is one of function. A means of getting your gym gear from home to office to gym and home again. What is not inherent however, is the bag's look, construction, or quality.
Categories: Learn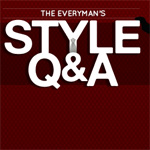 Grant answers your question regarding briefcases vs. messenger bags, brightly colored driving loafers, wearing clothes as good as a magazine model, button down collars with ties, and the rules for men and rings.
Categories: Spend
If you decide to go on a last minute weekend trip the question becomes not 'what should I pack?' but 'what should I pack in?'. A suitcase is excessively big and bulky, and a book bag is too small and smells like your gym locker. The solution: the weekend bag.
Categories: Spend
You're an in demand guy with lots of places to go and lots of things to take with you when you go there. You're also not in high school anymore, so it's time to retire the book bag for something a bit more serious – and stylish.