Grant's Greatest Hits
→ Check out more of Grant's work on his blog Image Granted and his new online store of commissioned accessories.
You asked. We listened. You want more great tips on dressing well and affordable style picks, and we're more than happy to oblige. As we all know, dressing well on the cheap isn't easy. It's going to take the right man with a specific set of skills for making men look and feel their best. While the job may not be easy, finding the right man for the job was simple.
I'm proud to announce Grant Harris will be taking on the role as Style Editor at Primer. Grant's no stranger here, you already know him from his incredibly popular column "The Everyman's Style Q&A" where he answers your questions about clothing and style with real world examples and style picks. If you like what we've been doing with style on Primer, it's about to get a whole lot more awesome.
And if you don't know Grant, he's certainly got the chops. As founder and Chief Style Consultant for the DC based image consulting company Image Granted, Grant builds and perfects the style of his clients one on one. As a graduate from the Virginia Military Institute, Grant's method comes from the practical, not the aspirational. He'll show us how to look great walking into a meeting or a first date, not down a fashion runway.
Please give Grant a warm welcome and congratulations!
Thanks for reading and your continued support, we couldn't do it without you!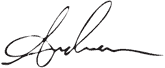 Andrew
Editor & Founder